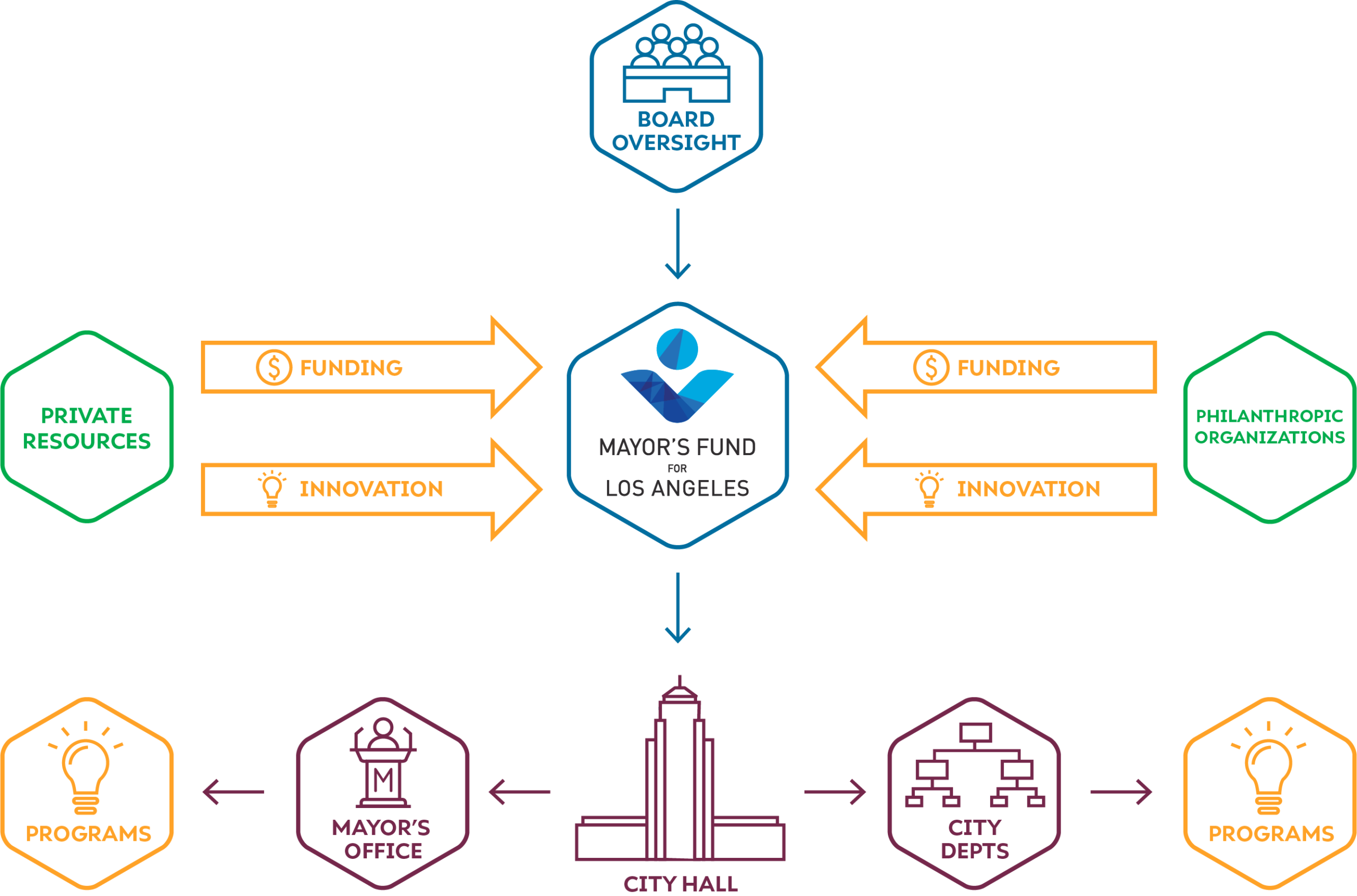 Private resources can move quickly to get innovative solutions off the ground.
MFLA matches City Hall's priorities with nongovernmental ideas to create a partnership that maximizes the strengths of both the public and private sectors.
MFLA matches City Hall's priorities with nongovernmental ideas to create a partnership that maximizes the strengths of both the public and private sectors.
Philanthropic organizations can explore new, flexible approaches to complex issues.
In five years, MFLA's nearly 50 programs have streamlined and enhanced the public services that impact every aspect of Angelenos' daily lives.
In five years, MFLA's nearly 50 programs have streamlined and enhanced the public services that impact every aspect of Angelenos' daily lives.
Innovative problem-solving ideas can come from anywhere. Many come from inside City government and are implemented by the Mayor's Office or City departments.
The Fund works closely with City Hall, but we're strictly independent, and responsible only to our own nonpartisan Board of Directors.
Jeremy Bernard
President and CEO
Kathleen Brown
Board Chair
Dear partners, supporters, and Angelenos,
Los Angeles is a dynamic metropolis. It's a place where opportunities for connection and innovation arise every day. The Mayor's Fund for Los Angeles was founded in 2014 as a bold answer to some questions: why not create a hub to support broad goals in the public interest, activating connections between the public sector, private enterprise, and philanthropy? Why not magnify City government's impact by uniting the expertise and innovation of business with philanthropy's risk capital?
With that mission at heart, the Fund has spent the past five years building partnership-driven programs that have touched the lives of millions.
Our position as an independent nonprofit situated alongside City Hall lets us take risks that government cannot, bringing new resources to bear on LA's most pressing challenges. Key partnerships with the Mayor's Office let us expand the boundaries of what was once thought feasible.
This annual report looks back further than the just-concluded fiscal year. In it, you'll see how an innovative idea became a reality, generating a track record that proves just how much can be achieved through public-private collaboration at the municipal level. We are proud that many programs the Fund has launched now have permanent homes at the Mayor's Office and throughout City government. We're excited to move forward with our ongoing work to foster opportunity and enhance Angelenos' quality of life.
The Mayor's Fund for Los Angeles would have attained only a fraction of its current success without the leadership and vision of Deidre Lind, our founding President, and Marc Stern, our founding Board Chair. We have taken up that momentum as the Fund enters its next five years. We're confident that we can continue building partnerships and expanding the Fund's impact throughout the region.
We remain as committed as ever to the Fund's vision: to bridge the public, private, and philanthropic sectors to benefit Los Angeles. We hope you will take this opportunity to read about what we've accomplished in five years, and to think about what your continued support can make possible as we embark on a new chapter for the Fund.
Jeremy Bernard, President and CEO
Kathleen Brown, Board Chair
Risk and reward: the innovative incubator inside City Hall
City Hall's impact and reach are unparalleled, but a city government that serves four million people must provide and maintain a vast array of programs and services for its residents. Given this focus, cross-sector collaboration between the private sector and philanthropy offers an opportunity to pilot new ideas with a higher tolerance for risk. From its founding, the Mayor's Fund for Los Angeles has sought to make bolder civic experimentation possible by fusing public goals with philanthropic flexibility to kickstart forward-looking initiatives.
MFLA's SPARK program, seven pilot programs that tested new ideas and pushed the limits of the status quo, resembles a venture capital fund in its pursuit of civic innovations to tackle some of LA's toughest problems. SPARK allowed MFLA to take on a new role in catalyzing bold ideas by funding programs as a direct grantmaker. MFLA's traditional collaborations have also made it possible for good civic ideas to find permanent homes with the City or our partners.
Today, the fabric of City government includes many ideas that were untested until MFLA incubated them and carried them through to success.
The Los Angeles Innovation Team started out as an MFLA partnership with Bloomberg Philanthropies. Now a City-funded arm of the Mayor's Office, it helps renters learn their rights; reaches new, diverse pools of police recruits; and creates data-driven approaches to longstanding problems.
Los Angeles hired its first Chief Procurement Officer as a result of work by the Fund's Operations and Innovation Team, which also permanently improved the City's approach to workplace safety and real estate management. 
A SPARK grant set the groundwork for the LA Cyber Lab, the first city-level public-private partnership dedicated to tackling cybersecurity threats. Another SPARK grant created the Collateral Consequences Legal Reentry Clinic, now permanently housed at Loyola Law School where it helps formerly incarcerated people return to society and find jobs and housing.
Support from the Fund has been instrumental in helping the City test cutting-edge approaches to solving challenges — ideas that we're able to scale up to make a difference in the lives of Angelenos for years to come.
— Ana Guerrero, Chief of Staff, Office of Mayor Eric Garcetti
Reaching millions: civic partnerships expand what's possible
Los Angeles steps up to its challenges, no matter how demanding. Cross-sector partnerships expand the range of talent available to tackle those challenges. MFLA's work over the past five years has made life better for millions across all of Los Angeles and made communities safer, more resilient, and better equipped to face the future.
MFLA is a key backer of Summer Night Lights, which keeps parks open late and offers sports, food, arts, workshops, and more, serving around 700,000 Angelenos a year. In 2018, SNL contributed to a 10.2% drop in gang-related crime throughout the city's GRYD zones. The program received the Secretary's Award from the U.S. Department of Housing and Urban Development for its outstanding work as an innovative and impactful cross-sector initiative.
Over 9,000 former LAUSD students have attended community college tuition-free through LA College Promise. This program laid the ground-work for California's statewide College Promise program, inaugurated in 2017 and expanded earlier this year.
Hire LA's Youth began in 2014 with a goal of connecting 10,000 youth with jobs. The program matched nearly 17,000 young people with job opportunities last year, and with the new online tool Find Your Future, the Mayor's goal of 20,000 youth hires by 2020 is well within reach.
Highlights From Our Programs
Programs vs. Operations Expenses
Total Expenses by Program Type
Total Revenue vs. Total Expenses
Eric Garcetti
Mayor of Los Angeles
Dear friends,
A world city like Los Angeles thrives on collaboration — and the success of the Mayor's Fund for Los Angeles is a testament to how Angelenos are committed to connecting, serving, and uplifting each other every day.
Five years ago, the Fund grew out of a goal to connect the City to itself by combining public sector reach with private sector flexibility. Today, the Fund is a reliable platform for cross-sector collaboration, bringing new resources to bear on persistent challenges in every industry, in every neighborhood.
The results speak for themselves. Our city parks are staying open on summer nights as safe spots for community interaction. Young people are connecting with employers and colleges, setting those individuals on the path to stable careers. Private sector experts are operating out of City Hall to improve government systems. Advocates and industry leaders are uniting to pursue equal opportunity for all.
Those are just a few examples — there are many more. We are grateful for the way the Mayor's Fund for Los Angeles has harnessed the power of partnership to improve the quality of life for Angelenos. As it embarks on its next five years, I'm proud to continue working with the Fund to serve this city. My thanks to its many partners and supporters. Let's keep moving Los Angeles forward.
Sincerely,
Eric Garcetti, Mayor of Los Angeles